By 2021, 80% of the World's Internet Traffic Will Be Video
Cisco predicts that 80% of all internet traffic will be video by 2021.
Video marketing will change the way we promote our businesses, products and services for the foreseeable future. With video, we can communicate quickly and efficiently by telling a story that touches people in a way that no other media can touch. Video allows us to communicate with emotion and clarity, and gives us the power to tell stories that matter. In a marketplace filled with informational clutter, video breaks through and provides a competitive edge.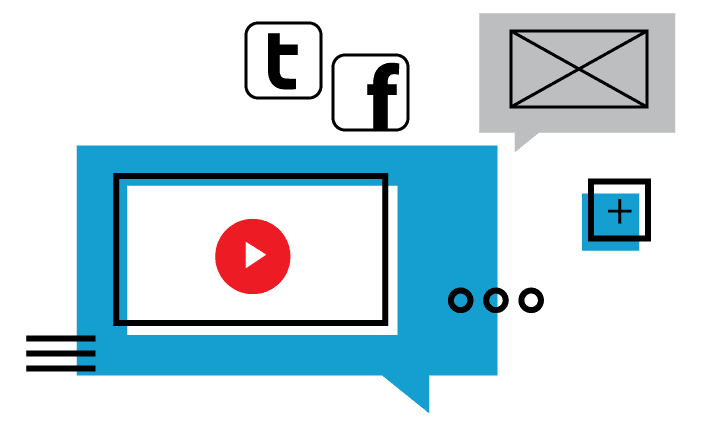 Video Distribution
Successful video marketing is more than just the development of powerful videos. It's about targeted online distribution through the top video sharing networks that have the ability to drive significant traffic to your web site, increasing your online visibility, augmenting your brand perception and boosting new business leads. Utilizing the latest in social bookmarking, article submission, SEO submission and video submission & distribution. The Goodness Company is your connection to powerful video development and online video marketing.
---
Did You Know?
One billion hours of YouTube content viewed per day.
By 2021, Cisco predicts that 80% of internet traffic will be video-based
YouTube localised to 91 countries, and accessible in 80 different languages
73% of US adults use YouTube
2 billion monthly active YouTube users
Source: YouTube Revenue and Usage Statistics (2020) – Businessofapps.com
Thank you for all of your work for Microsoft over the years. Your creativity and attention to detail is always on target.

The Goodness Company provided Restaurant.com with early branding guidelines that helped us make the jump from a local business to a national brand. We are grateful for this strong support during our launch.

The Goodness Company team have become friends. Over several years of collaborative effort, the Goodness team delivered creative marketing concepts, strong public relations and thoughtful branding. Their unflagging persistence led us to trust them and to welcome them to participate in important meetings and strategy sessions.  They were instrumental in our move to form our new company, partnering with the largest legal brand in the world.

We can to The Goodness Company with an idea. They made this idea a reality. Our partnership with The Goodness Company has resulted in a new clinic dedicated to medical tourism in the Bahamas; the first of its kind. The Goodness Company has provided honest insights, creative solutions and has proven to be a strong marketing partner.

I have worked with Patrick on a couple of projects now, both for a non-profit board that I serve on as well as corporate work for my job in the printing industry. In all dealings with the Goodness Company I have found Patrick's work to be both timely, informative and relevant. His knowledge of the inner workings of marketing, advertising and design is outstanding. As mentioned, I work in the printing industry, and as such, have relationships with countless advertising and design agencies. That being said, of the myriad agencies we work with, we chose the Goodness Company for our rebranding and marketing efforts. We have the option of working with firms from across the state, across the country and across the globe, yet we made the decision to support another local business not just because of their location here in Wisconsin Rapids, but also because of the outstanding quality of their work.

I only have PRAISE for The Goodness Company. The overwhelming positive comments from my network and the numerous phone calls from total strangers received after my website was up last August show The Goodness Company's efficiency and excellence I experienced all through the creative process. Thumbs up!

It's been nearly 10 years since our first project with The Goodness Company. Since that time, they have developed advertisements and materials for us that have been the envy of my competitors. The Goodness Company continues to impress us, not only because of their dedication, but because they have consistently demonstrated what the word 'integrity' means, even in the most competitive business markets. The Goodness Company has become a reliable ally and has earned our loyalty for as long as this company bears my name.

Our experience with The Goodness Company is always positive and inspirational. Their team is always brimming with great ideas to help us grow! If you're looking for a marketing agency that provides strong experience, personal attention and creative ideas that generate positive returns, you can trust The Goodness Company. We do.

The Goodness Company developed a new website for Bancroft State Bank. The website they designed for us exceeded our expectations in every way. Immediately after launching the new site, we received more than 20 comments from customers voicing their overwhelming satisfaction with our new site. When our customers are happy…so are we! With such attentive, personal service, incredible design and incredibly affordable pricing, we will definitely continue to do business with The Goodness Company.